When we talk about the black summer truffle, we cannot help but think of its distinctive and unmistakable flavour. However, to get it right, one must carefully consider which wine to pair with the black summer truffle.
Black summer truffle types and their characteristics
Among the many interesting facts about truffles, it is useful to know that there are about 100 different types, but only 9 are edible truffles. The black summer truffle is also known as scorzone and, compared to the other truffles, is the cheapest and most readily available. In fact, it is available throughout the warmer part of the year, from May until September. The price of the black summer truffle can vary, from 50 to 250 euros per kilo, depending on its size and availability. Not to be confused with the prized black truffle, the black summer truffle looks very similar to the latter, except for the inner part, called the gleba, which is hazelnut to yellow in colour, characterised by numerous white streaks. Another distinguishing feature of the black summer truffle is its flavour, strong but not overly strong, reminiscent of mushrooms, and generally more delicate than other types of truffle. No wonder, then, that all these characteristics make the summer truffle one of the most popular among truffle lovers.
Which are the best wines to pair with black summer truffles?
It is not easy to answer this question, not even for oenologists, because the factors to be taken into account for the right truffle and wine pairing are many. However, pairing wine with black, prized or summer truffles is easier than pairing it with white truffles, which have a stronger flavour. The first factor to take into account is the dish as a whole, evaluating the combinations with all the ingredients of the recipe. It is therefore a good recommendation to evaluate the seasonality and territoriality of foods and wines, for more successful pairings. Another important element to bear in mind is that truffles, due to their strong flavour, should not be paired with over-structured or aromatic wines, otherwise their flavour will be completely overwhelmed. Potentially, the black summer truffle can be accompanied by white wine, when paired with pasta, and by red wine, when it comes to meat dishes. Wines subjected to ageing are the most preferred to enhance the flavour of truffles, such as Oltrepò Pavese Riesling DOC, Fiano, Verdicchio or Gavi. For more elaborate dishes, one could choose Barolo DOCG, Amarone, Chianti DOCG Riserva Selvato and Pinot nero. As far as sparkling wines are concerned, they are not among the most recommended pairings. If you simply cannot do without it, however, you should opt for long-matured bubbly with a reduced acidity, such as a Classic Method sparkling wine or a champagne to accompany fried and fatty dishes, which will be well suited to cleansing the palate of grease.
And in the kitchen? Uses and combinations of black summer truffles
Whatever variety you have available, the truffle will always add that unique and unmistakable touch to a dish. However, the strong, characteristic flavour of truffles, if not combined correctly, will overpower the other flavours; therefore, it is not recommended to combine it with overly sophisticated and elaborate dishes with condiments and sauces. The black summer truffle, in particular, is the most widely used variety in the production of sausages, cheeses, sauces, oils and truffle-based condiments. A further characteristic of the black summer truffle is that, unlike the white truffle, it can also be used in cooking. Therefore, it is also suitable in combination with hot dishes or for making fillings. However, it is still recommended and preferable to add truffle shavings after cooking.
Black summer truffle: classic traditional recipes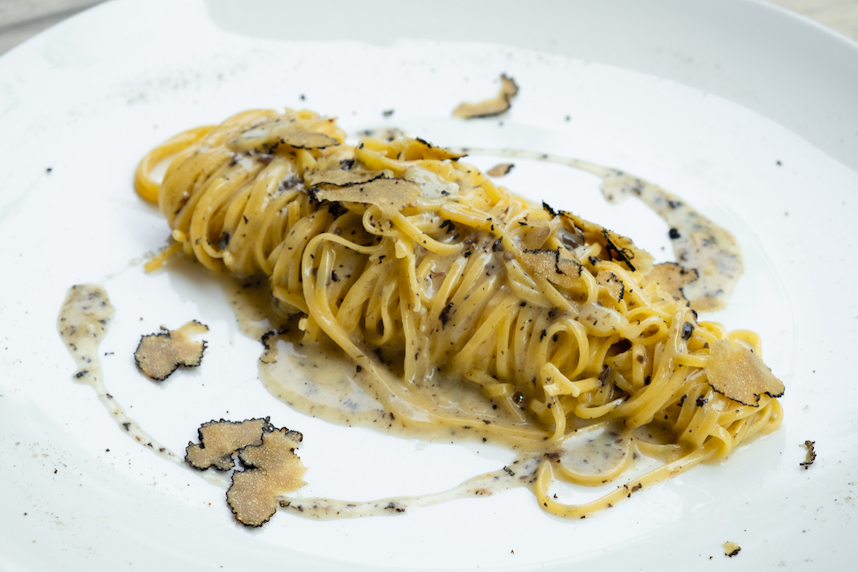 The black summer truffle, like all truffles, prefers to be paired with delicate and simple dishes, to display its wealth of flavour in all its magnificence. To prevent the flavour of the truffle from being masked and overpowered by other ingredients, chefs and tradition suggest great classics, such as tagliatelle with black summer truffle and fried eggs with truffle. Nevertheless, with the arrival of summer, why not try innovative recipes such as shrimp in vegan sauce with black summer truffle and fried pumpkin flowers with truffle honey? Quick and easy to prepare, they are the perfect dishes for a summer lunch by the sea. Those who feel like stepping out of their 'comfort zone' and experimenting in the kitchen, without risking wasting truffles, need have no fear: there are recipes that may seem unusual but are absolute winners. Just think of sushi with truffles or gourmet panini.
Impress your guests: see Giordano Wines' truffle specialities and choose your favourite wine to pair with summer black truffles!