ABRUZZESE CUISINE
Abruzzo is located in central Italy, stretching from the heart of the Apennines to the Adriatic Sea, on a mainly mountainous and wild land. The mountainous inland is occupied by a vast plateau whose highest peaks are Gran Sasso (2,912 m) and Mount Majella (2,793 m). The Adriatic coastline is characterized by long and sandy beaches to the north and pebbly beaches to the south.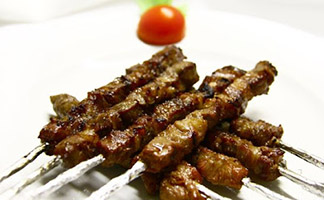 The cuisine of Abruzzo stands out for its flavor-filled simplicity linked to the land. The coastal area has a great tradition for fish and especially for "brodetto", a kind of fish soup: its variety from the northern area has a strong, decisive flavor, thanks to its tomato and chili peppers, while the varieties from the south are milder.

Every coastal town has its own. Oily fish dishes are never in short supply: salt cod is used a lot, as are the "poorer" types of fish, such as reef mullet or cuttlefish. The hilly zone and some of the Apennines have a tradition in herding livestock that goes back thousands of years and so there are lots of dishes containing lamb or goat, such as the famous "arrosticini", brochettes with castrated lamb or "cacio e uovo", lamb with cheese and egg sauce.

The best grapes of Abruzzo is the Montepulciano used to vinified the Montepulciano d'Abruzzo doc and the white grapes is Trebbiano d'Abruzzo
Montepulciano has been introduced into the Abruzzi at the beginning of 19th century, the Montepulciano variety rapidly spread throughout the region and is now used in the production of the wine of the same names in all four provinces: l'Aquila, Chieti , Pescara and Teramo.The Montepulciano grapes, at its best, gives wines of deep colour, firm tannins and low acidity.
TYPICAL RECIPE: SPAGHETTI ALLA CHITARRA IN LAMB RAGÙ SAUCE
Very tasty pasta dish made from the classic Spaghetti and a traditional sauce - "ragù di agnello"(lamb ragù).
Ingredients for 4:
500 gr. Spaghetti pasta, 1kg lamb, 250 gr.tomatoes, 3 spoons of extra virgin olive oil, cup dry white wine, 2 garlic cloves, bay leaf, pecorino cheese, meat or vetable stock, salt and pepper
Preparation:
Put the oil in a frying pan along with the garlic and bay leaf and cook until garlic turned golden brown, remove the garlic and add the lamb cut into small pieces, add salt and pepper to taste and then add the white wine, when the wine has been completely absorbed add the tomatoes which should have been cut into pieces. Cook for two hours a low heat . If the sauce reduces too much then add a little of stock. Once done pour it over the boiled "al dente" spaghetti and serve with the Pecorino cheese.