THE FOOD OF SALENTO
Apulia (Italian: Puglia) is a region of Italy in Southern Italy bordering the Adriatic Sea in the east, the Ionian Sea to the southeast, and the Strait of Òtranto and Gulf of Taranto in the south. Its most southern portion, known as the Salento peninsula, forms the high heel on the "boot" of Italy. The region is comprised of 19,345 square kilometers (7,469 sq mi), and its population is about 4.1 million.
The cuisine of Salento could be defined as being based on "poor" ingredients, found locally and creatively used to make surprisingly tasty, exquisite dishes. Vegetables are never scarce, always in season or traditionally preserved. The garden yields up cime di rapa, chard, broccoli, aubergines, cauliflower, legumes and above all, fava beans. Wild plants are also picked and used, especially, chicory, wild asparagus, dandelion and especially the lampascione (a variety of wild onion). Dishes are often seasoned with herbs from the Mediterranean scrub, such as thyme, rosemary, mint, sage, and also mustard and wild fennel. Vegetables are generally eaten with bread or pasta, like the famous orecchiette with cime di rapa.

Since the Salento region is a peninsula, fish could not be ignored and here too, there is a lot of "poor" varieties, such as squid and different types of mollusc, including black and bait mussels, mackerel, sardines and anchovies plus a variety known as boga, which is fried and preserved in a mix of breadcrumbs, vinegar, saffron and extra virgin olive oil. Salt cod is also widespread and mainly eaten in winter, even with pasta. Meat-based dishes are much less widespread, and the authentic traditional dishes are based on the innards of lamb (at Easter) and horse meat. Once horses were used in the fields and then eaten. Since the climate is not really suitable, there is no real tradition for preserved meats in Salento and therefore, no real production or consumption of cured pork meats, hams or sausages. Salento, like the rest of Puglia, has excellent bread. It is often dark because of bran it contains and it is made with natural yeasts and baked in stone ovens fired with olive wood, which is what gives it such an unmistakable flavour. Olives are sometime added to the dough (puccia) or onions (onion bread).

Of the baked goods made locally, the top spot should go to the frisella, which is a kind of hard, dehydrated bread that used to be made to be stored for lengthy periods in the home. Just as important are taralli and tarallini, which can also be kept for long periods of time.
Another typical (and more recent) product is the rustico: a flaky pastry disc filled with white sauce, tomato, mozzarella and pepper. You will also find the classical calzone which is either fried or baked.

There is a wide variety of cakes and biscuits in Salento, with the top place going to almond paste or marzipan, made by grinding almonds and sugar together. It is made in different ways according to the period of the year: at Christmas it takes the shape of a fish and at Easter a lamb filled with quince or grape preserve.

In Torricella, in the heart of Salento region, the headquarters of the Giordano's Winery where the prestigious red are aged like the famous and appreciated Primitivo di Manduria. It is one of the most famous wines in Apulia, and is obtained from very old Primitivo bush vines trained according to the "ad alberello" system. This particular wine comes from a single vineyard, which is 50 years old and the vines give just 50 tons per hectare.The Negroamaro, a red wine with an international character, strong and elegant at the same time, the Sangiovese and the eclectic red Negroamaro-Pinot Nero both to be drunk young or aged.
I must mention at this point the white wine: the Fiano, the most popular grapes of Apulia made with 100% of Fiano which display a rare aromatic delicacy and the intense and full-bodied Chardonnay.
TYPICAL RECIPE: GIORDANO ORECCHIETTE PASTA WITH CIME DI RAPA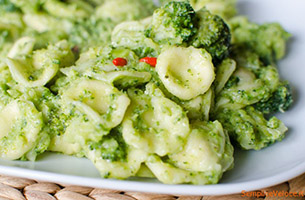 Ingredients for 4:
1/2 cup extra-virgin olive oil, 4 garlic cloves, chopped, 1 dried chilli, crumbled, 1 pack of Giordano Orecchiette Pasta, 10 g. of Anchovies in olive oil, salt, 1 pound of Cime di Rapa ("turnip tops" ), 1 cup freshly grated Pecorino or hard Cheese
Preparation:
Heat the olive oil in a deep, wide sauce pan. Add the garlic and cook until golden; add the chilli , anchovies and keep warm. Meanwhile, bring 6 quarts of water to a boil. Add the cime di rapa and salt, and after 10 minutes, add the Orecchiette pasta . Cook until the Orecchiette are "al dente", about 10 more minutes; drain, but not too thoroughly: you want to leave a little of the cooking water clinging to the Orecchiette and add to the sauce pan and cook for another 2/3 min. Sprinkle with grated Pecorino ot grated hard Cheese and serve.
Variation: if you like cooking cream you can add it on the sauce pan with Orecchiete pasta and Cime di rapa and cook for another 2/3 minute. Add black pepper to taste.