SICILIAN CUISINE
Sicily is the largest island in the Mediterranean Sea. It is located in the central Mediterranean. It extends from the tip of the Apennine peninsula from which it is separated only by the narrow Strait of Messina, towards the North African coast. Its most prominent landmark is Mount Etna, which is at 3,320 m (10,890 ft) the highest active volcano in Europe and one of the most active in the world. The island has a typical Mediterranean climate.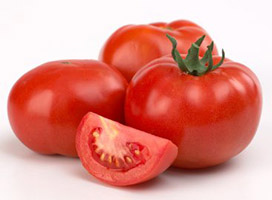 Sicilian cuisine is a fusion of the most articulated and particular in Italy. It is rich in flavor and unusual combinations that are completely unique. It is a cuisine that represents a blend of the different cultures of the ruling populations that have followed one another over thousands of years of the island's history: Phoenicians, Greeks, Romans, Swabians, Arabs, Normans, Angevins, Aragonese and Piedmontese, each one bringing new ingredients, specific cooking methods, their own recipes.

Since the island was attractive due to its rich agriculture, strategic position in the heart of the trade routes of the Mediterranean, it could not be otherwise! In fact, one of the most particular features of this type of cooking is the use of eastern ingredients, such as citrus fruits, cinnamon, pistachios, and almonds, combined with local produce for dishes that are full of unusual flavors and combinations. But local food is also a fusion of ingredients from the green coasts and fish-rich sea, with those of the harsh inland areas. Today it is also a mix of dishes typically cooked by the poor with those eaten by the rich nobility. It is never boring and always a thrilling experience.

To give a general idea of some of the basic aspects that characterize this extraordinary food, it can be noted that it only uses extra virgin olive oil to cook and also season. Butter is used rarely, and "sugna" (beef fat) is only used to soften the mix of certain cakes or pastries. The main ingredients are vegetable based or from the sea (fish and seafood). Meat is rarely served and even then, only in the form of offal. Fish is traditionally often found on Sicilian tables, served fresh, seasoned with oil, garlic, olives and capers, or in gratin with breadcrumbs and orange. Sweets and pastries play an important, constant role with a great deal of use of ricotta, almonds, rose water and orange blossom, such as the famous cassata or marzipan.

Nero d'Avola is Sicily's most popular red grape, used in the region's bestselling varietal wine. New viticulture process, a night harvesting and th used of temperature controlled vats prevent an early fermentation and gives more flavoured wines . Pronounced "Neh-roe Dah-voe-lah" and translated "The black (grape) of Avola", this red grapes gives wines of great richness and with a rich, flavours and velvety texture. It is easy to drink but that can take a bit of aging, works well in blends with other grapes, and can benefit from the use of oak.

TYPICAL RECIPE: SICILIAN SWORDFISH ROULADE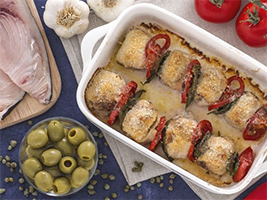 This dish is very typical of Sicilian cuisine and it showcases the different influences that have featured over the centuries, especially Arabian food, which brought with it sultanas and pine nuts. The dish is rich and structured, and it needs a full-bodied wine like Chardonnay di Sicilia Giordano, with its rich, charming flavor and acidity to combine perfectly, with the result that the dish and wine bring out the best in one another.
Ingredients (serves 6):
600 g swordfish sliced thinly, 2 tablespoons breadcrumbs (plus some for coating), 2 tablespoons grated Parmesan, 1 tablespoon pine seeds, 1 tablespoon sultanas, 1 finely sliced onion, extra virgin olive oil, 2 tablespoons chopped parsley, salt and pepper, bay leaves
Preparation:
Soften the onion in a little oil, then add 200 g finely sliced swordfish, the breadcrumbs, pine seeds, Parmesan, sultanas, salt and pepper. Mix together well and cook for a few minutes. In the meantime, flatten the other swordfish slices with a tenderizer, so that each slice is about 5 cm thick. Place some of the mix in the center of each slice, then roll up the slices so that the ends are tightly closed to prevent the filling from coming out. Pass a brochette through each of the roulades, separating each one with a bay leaf. Roll in the breadcrumbs and place in a baking dish, greased with oil. Drizzle with a little oil and cook in the oven at 180° C for about 20 minutes. When they are golden brown, remove from the oven and serve immediately.