THE CUISINE OF PIEDMONT
The capital of Piedmont is Turin. Piedmont is surrounded on three sides by the Alps, including Monviso, where the Po rises, and Monte Rosa. It borders with France, Switzerland and the Italian regions of Lombardy, Liguria, Aosta Valley and for a very small fragment with Emilia Romagna.

TYPICAL PRODUCE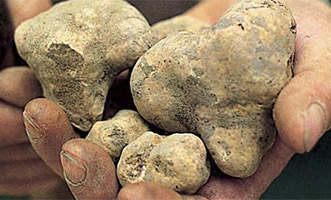 The Alba area is heaven for the more demanding palate and it offers a list of typical produce to tempt any gourmet food lover. To start with, it owes its gastronomic fame to the white truffle (Tuber Magnatum) that grows in the woods on its hillsides. In cuisine, this tuber is appreciated in simple dishes such as handmade pasta or on frittatas and fondues. On the subject of pasta, Alba is known for its "agnolotti del plin" a homemade pasta filled with (braised) meat and sealed with a pinch ("plin"), and for its famous "tajarin", small tagliatelle with an irregular shape, just made to soak in sauce.

The typical meat here is Fassona (the female of this Piedmontese breed of cow), which is also excellent raw but mostly famous boiled, with a "bagnet verd" (chopped parsely, garlic, bread soaked in vinegar, hard-boiled eggs and olive oil). The local cheeses are also famous and each one reflects its original "territory and traditions" with the best known being Raschera, Castelmagno, Toma Piemontese, Bra, Robiola di Roccaverano and Tuma di Murazzano.

Hazelnuts are usually grown where grapes aren't and these include the Tonda Gentile delle Langhe variety, which is protected by its own set of regulations and used above all in local cakes and sweets.

The main traditional grapes are Nebbiolo, ( Barolo & Barbaresco ) Barbera and Dolcetto and Moscato that well reprersent our traditions. A small amount of Pelaverga, Freisa, Favorita are also cultivated along same International grapes like Chardonnay, Cabernet Sauvignon and Merlot often used in blend wines.
RECOMMENDED RECIPE –BRASATO AL BARBARESCO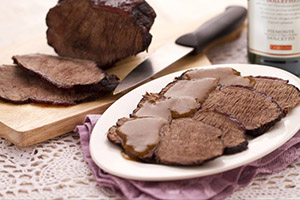 Ingredients:
one bottle of Barbaresco wine, 1Kg of veal for braising , 100 g. chopped lard, a clove of garlic, 40 g butter, a carrot, a stick of celery, bay leaf, half an onion, cloves, salt, pepper, flour, cinnamon and a glass of rum.
Preparation:
take the veal and brown it over a high flame with the clove of garlic, carrot, four or five cloves, rosemary, butter, chopped lard, celery, half onion, bay leaf, salt, pepper and cinnamon. Pour on the Barbaresco wine and continue to add while cooking. Cover the meat with hot water and cook for an hour and a half over a moderate heat. Reduce the vegetables and sauce. A few minutes before serving, add the glass of rum and complete the dish by slicing the meat and covering it with the sauce.