CUISINE FROM THE VENEZIE
Veneto is one of the twenty regions of Italy. Its population is about five million, ranking fifth in Italy. The region's capital and largest city is Venice. Veneto is the 8th largest region in Italy, with a total area of 18,398.9 km2 (7,103.9 sq mi). It is located in the north-eastern part of Italy and is bordered to the east by Friuli Venezia Giulia, to the south by Emilia-Romagna, to the west by Lombardy and to the north by Trentino-Alto Adige/Südtirol. At its northernmost corner it also borders on Austria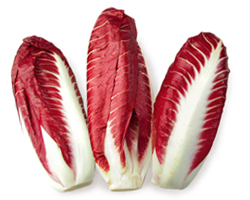 The Venezie is a vast geographical area that includes Veneto, Friuli-Venezia Giulia and Trentino. A continuously changing panorama: from the sandy and rocky coasts of the lagoon and the Adriatic, full of fish, and up along the Po River and its valley, to the hills of the Alpine foothills, the valleys and the Alps themselves.

This makes it hard to say there is a typical cuisine in this area, seeing that cuisine becomes "typical" because of the availability of certain types of ingredients in an area and then because of the recipes and the different ways of cooking them. In any case, "Le Venezie" were ruled by the Venetian Republic for many centuries and therefore, Venice and its cuisine had a big impact on the area.

Venice, a great trading city and crossroads between Europe and the Orient, the port from which the first corn came and therefore, the polenta made with corn flour that can be found throughout the region, each with its infinite varieties. It was also from Venice that salt cod was first sold and the sweet and sour flavors that can be found in many different dishes originating in the Triveneto area came from the city, too.

The most famous wines are Bardolino, Valpolicella , Soave and Prosecco. The DOC Bardolino is a red wine blended form Corvina, Molinara and Rondinella grapes produced in the province of Verona.
Valpolicella cames form a bland of of grapes including Corvina, Molinara and Rondinella. Soave is asmall town 19 km east of Verona,
giving its name to the balanced smooth, fresh white wine made there. The grapes used are Garganega and Trebbiano ( Ugni Blanch)
The sparking Prosecco made with glera grapes is one of the well-known fizzy Italian wine.
TYPICAL RECIPE: RISOTTO WITH RADICCHIO DI TREVISO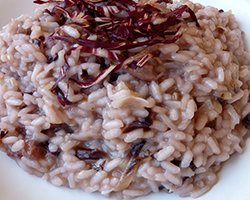 This tasty dish is typical of the Marca Trevigiana area, where the best Prosecco( glera ) grapes are grown and also the famous red radicchio. The creamy taste of the rice and the slightly bitter hint from the radicchio is a perfect accompaniment for the cool but not overly dry taste of Prosecco Frizzante delle Venezie from Ferdinando Giordano.
Ingredients for 4:
350 g Vialone nano rice, 2 heads of Treviso radicchio, 2 garlic cloves, 2 tablespoons of grated Parmesan cheese, Meat stock, White pepper, 2 tablespoons extra virgin olive oil, 2 knobs of butter, salt
Preparation:
Gently fry the garlic in the oil and butter, removing it as soon as it changes color, then add the cleaned and sliced radicchio, keeping the hearts to one side. Sprinkle with salt, add a spoonful of water and leave the radicchio to soften. Add the rice, mixing well, and then the hot stock, a little at a time, continuing to mix with a wooden spoon until the rice is almost cooked. Check the seasoning, sprinkle with the grated Parmesan and add a small knob of butter, stirring well. Sprinkle on a little white pepper and serve with the crunchy radicchio heart in the center.