There's a popular saying that "rice is born in water and dies in wine". And it's true, because choosing the right wine to go with your favourite dish is no mean feat, but when you find the right one, it's a pure ecstasy of taste. And then, most likely its success at the table will be guaranteed by a nice glass, because with wine in our bodies we're all better judges...
So read on, and you'll find out that becoming a masterchef isn't all that impossible.
The right wine to pair with your risotto
There are a thousand combinations: this is the beauty of having a food and wine tradition like ours. From Mushrooms Risotto, to be enjoyed with medium-bodied wines with good aromas like a Dolcetto, up to a seafood risotto, which calls for the freshness of Vermentino. And if it's the right season, how can you miss out on a tasty Risotto al Tartufo? Here, on the other hand, we need the softness and body of mature wines, like Montepulciano d'Abruzzo and Nebbiolo. A good combination to try is Risotto alla Parmigiana with Prosecco. If you think it might a gamble, don't go too far: but after the first sip which cleans and degreases the cheese and butter from your mouth, you'll see that it will be poetry.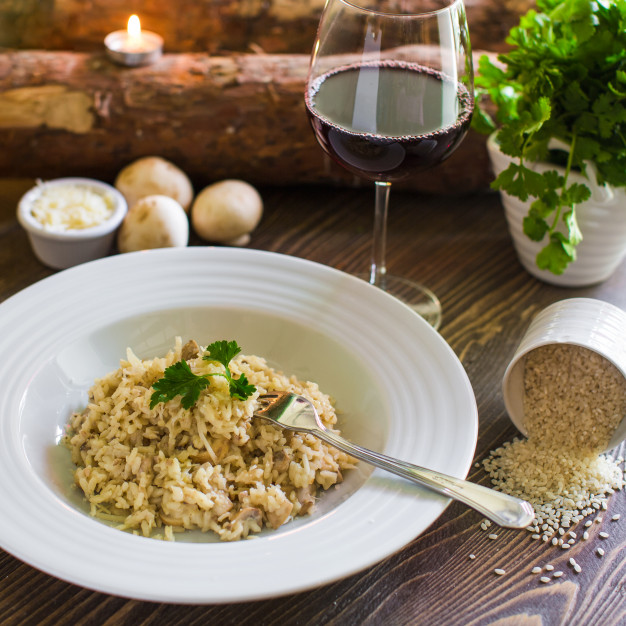 What's the perfect wine to simmer with risotto?
It depends; obviously the ingredients play an important role in the choice, but they're not the only factor. For example, there's a moment after the rice is toasted, just before the onion becomes too brown, where the addition of the wine makes the whole dish: it's the nuance. If the result you want to obtain is essential and refined, white wine is the most suitable. A Chardonnay to soften the heat and give it a fruity note is a good ally, as is a Pinot Grigio with delicate floral scents. If, on the other hand, the goal is to add strength and substance, go with a red Merlot or Teroldego, which tastes of tradition and home.
However, there are some recipes where wine becomes the protagonist
And it's here that culinary masterpieces like risotto with Amarone, Barbera d'Asti and Barolo are born. Of course they should be considered important dishes, worthy of the wines they come with, but maybe the fact that we only eat them on special occasions makes us appreciate them even more. Here we go beyond the classic individual glass used for simmering, and add a bit more quantity. But this is just added value for every true wine lover. And you'll surely understand...