UMBRIA CUISINE
Umbria is a region of historic and modern central Italy. It is the only Italian region having neither a coastline nor a common border with other countries. It includes the Lake Trasimeno, Cascata delle Marmore, and is crossed by the River Tiber. The regional capital is Perugia. Umbria is known for its landscapes, traditions, history, artistic legacy, and influence on culture.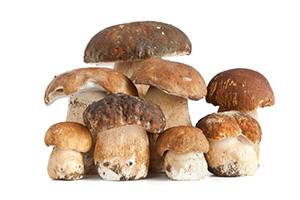 Umbrian cuisine still has characteristics from the Middle Ages or even from the Roman and pre-Roman eras. This region, enclosed as it is by mountains, has preserved many traditional cooking techniques, keeping them unchanged over the centuries. One example of this is spit roasting or grilling, typical of medieval times, when meat of all kinds was cooked over fire in large castle fireplaces before being served at sumptuous banquets.

There are many dishes that use this technique still today, such as: wild pigeon, cooked by spit and basted with "ghiotta", which is a sauce made with red wine, oil, bacon or ham, capers, olives, anchovies, onion, garlic, cloves or juniper berries, sage and lemon juice. Pasta and bread are also made following recipes passed down through the generations, such as ciriole or stringozzi, long strips of pasta, homemade with flour and water and served with garlic, oil, chili peppers or even mushrooms, asparagus, or truffles. This pasta is made on a board and rolled out by hand using a "stennarello" or rolling pin. Another simple recipe is the well-known unsalted bread of Terni made with just flour, water and natural yeast and only cooked in wood ovens.

The cuisine of Terni also includes dishes made with freshwater fish, mainly from Lake Piediluco.
These include Carbonaretti alla Piedilucana, fish, usually perch, cooked over an open fire and once browned, cleaned, filleted and served with olive oil, salt, pepper and garlic. Olive oil production in the province of Terni and indeed, throughout Umbria, is extremely important and prestigious. The oil from this area has been classed as having protected designation of origin since 1998.
TYPICAL RECIPE: RABBIT WITH TOMATOES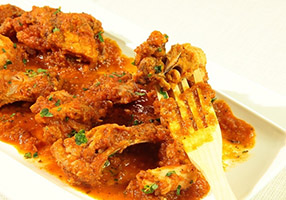 Ingredients:
1 rabbit, weighing 1 kg, 1 glass of Orvieto, 3 tablespoons of red wine vinegar, onion, a red onion, 1 stick of celery with leaves, 1 clove of garlic, 2 sprigs of wild thyme, 3 sprigs of parsley, 4 tablespoons of extra virgin olive oil, 1 sundried tomato, 200 g peeled tomatoes, 200 g firm, ripe tomatoes, 1 bunch of basil, salt and pepper.
Preparation:
Cut the rabbit into pieces, then wash and dry them. Peel the onion and garlic, clean the celery and wash and chop them all roughly. Put two tablespoons of olive oil in a terracotta pot and gently fry the pieces of rabbit over a high flame until they are golden brown. Pour in the Orvieto DOC and vinegar and leave to evaporate. Season with salt and pepper, then cook over a moderate heat for 15 minutes, mixing from time to time. In the meantime, blanche the tomatoes in boiling water, drain and peel them and cut them into pieces. Place the remaining oil in another terracotta pan, and gently fry the onion, garlic, celery, dried tomato, all chopped with a little finely chopped parsley, basil, thyme. Pour in the Orvieto DOC, leave to evaporate, add the chopped peeled tomatoes, season with a little salt and pepper and continue to cook over a low heat for 10 minutes, mixing from time to time. Blend the sauce in a vegetable mill or blender, pour over the rabbit and continue to cook it for an hour, adding a little water, if necessary. Sprinkle the rabbit with the remaining parsley, thyme, basil, washed and chopped.