Halloween is approaching, and the atmosphere is growing increasingly mysterious: ghosts, witches, carved pumpkins, and sweets everywhere. And admit it: we know you've been eagerly waiting for another reason to organize a fantastic themed dinner and toast with your friends. But, be warned, a perfect Halloween dinner should include not only mysterious costumes and thematic dishes but also the right wines... In this article, we bring you three frighteningly delightful labels to uncork during the Halloween night, along with specially selected recipes.
All that's left is for you to find the perfect costume and...
Oltrepò Pavese Riesling: a frighteningly good match with pumpkin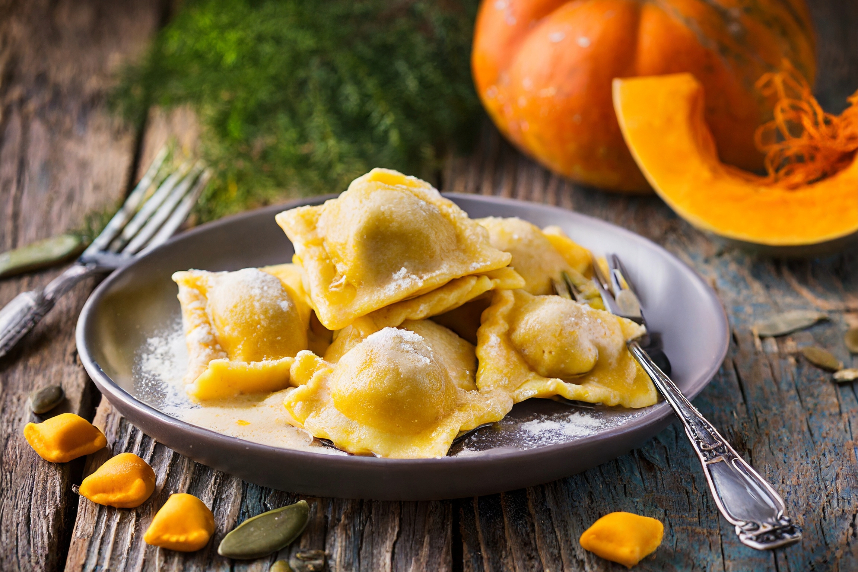 The first wine we suggest is Oltrepò Pavese Riesling, known for its freshness and versatility, making it a perfect accompaniment to pumpkin-based dishes, a must for Halloween, as you well know. With its notes of exotic fruit and pear, it pairs splendidly with the sweetness of pumpkin. Looking for a simple yet delicious recipe? The answer is: Pumpkin ravioli with butter and sage, a perfect pairing with Oltrepò Pavese Riesling.
Andrea Red Wine: the elegant combo with meats and cheeses
Here's the ideal choice for those who desire a characterful red wine to serve during the Halloween dinner. With its elegant black label, it offers an intense aroma and a complexity of flavors that pair perfectly with meats and cheeses. A delightful combination? Beef tartare with blue cheese. Yes, because raw beef, seasoned with olive oil and black pepper, is enhanced by the creaminess of blue cheese. This flavorful pairing, together with Andrea Red Wine, will make your evening truly unique.
Trick or Treat? Dolcetto from Piemonte, of course!
Lastly, we can't forget Dolcetto from Piemonte. It's perfect for those who want to conclude the Halloween dinner with something sweet and enveloping. To satisfy your sweet tooth, prepare a chocolate pudding with a sprinkle of grated orange zest. A real delight... and with a label like that, what more could you ask for?
Whether you prefer a fresh white wine with pumpkin, a red wine with meats and cheeses, or a sparkling sweet wine with dessert, one thing is certain: these wines are spookily good and will keep you company throughout the Halloween evening!
Now, don't be afraid, head to the website and add them to your cart!