It's a custom that has been part of French culture for some time now: many wines from Provence, the Camargue gris de gris wines, and some Champagnes have been created expressly to be drunk with ice. Even in Italy this is not a complete novelty, but rather a rediscovery – in fact, if before it was thought that ice would ruin wine, now this view is outdated.
Wine Bloggers with a certain renown on the web, and also some of the most accredited sommeliers, have decreed the acceptance of this custom. A more contemporary vision of wine tasting and more liberal ways of drinking wine have widened the boundaries of wine drinking culture by allowing some reinterpretations.
The rosés are certainly the ones that go best with this way of drinking wine. Among this type, we recommend Loris Vino Rosato: pleasant, fresh, sensual and balanced. Sparkling wines with little residual sugar such as extra dry are also highly recommended to drink with ice and we suggest the Blanc De Blancs Vino Spumante Millesimato Extra Dry, with a fine and persistent perlage and a bouquet rich in floral hints. A must to try "on the rocks" for those who want to experience the rosé-bubbly mix: the sparkling Brunella Rosé – one of the most classic and appreciated wines of the Giordano collection, and Rosé Vino Spumante Millesimato Extra Dry – currants and raspberries alternate with red roses and citrus fruits on the nose, while on the palate it is a fresh, persuasive joy. More generally, any young and ready to drink wine is suitable for adding ice, and above all, this solution is perfect in summer, when the heat increases one's desire to sip something cool: ice enhances the pleasantness and drinkability of the wine when the temperature rises.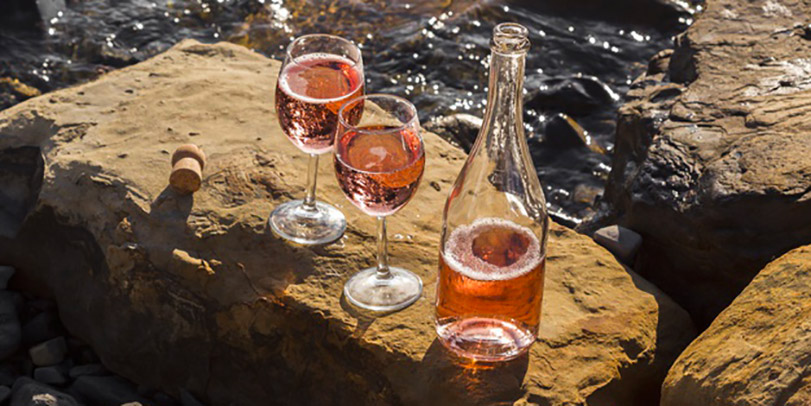 Although wine "on the rocks" is a trend mainly followed by young people, deriving from the need to drink cold champagne at parties, at the pool and on the beach, people working in the wine industry such as Beppe Palmieri (sommelier, maître and collaborator of the chef Massimo Bottura) are following in its wake: l'Artemio is a cocktail based on Lambrusco di Sorbara with ice, black cherry juice and candied black cherry created by the sommelier of the Osteria Francescana to accompany Omaggio a Boetti, the new dish by Massimo Bottura dedicated to the Modenese protagonist of Arte Povera. There is more and more talk in this regard of the "cocktailisation" of the wine experience, where wine is the leading player, and then... unleash the imagination!
Key ingredient: the quality of the ice! But the same goes for traditional cocktails... even they get watered down.
Then you just need to choose the wine: your base to mix with other ingredients to create a real Wine On Ice Cocktail Experience.
We suggest our line of rosé wines and bubblies, plus a novelty: ONICE the extra dry ICE sparkling wine, the real star of this summer!