If at first glance it seems like heresy, it must be taken into account that adding a few ice cubes to wine is no longer taboo. Consolidated for several years now, this trend began in France and has led several producers, including those from Provence, Gris de Gris from Camargue, and even Champagne, to create wines that are designed from the outset to be drunk on the rocks. With a view to consuming wine in a more free and personal way, some of the most accredited wine bloggers and sommeliers have also decreed a customs clearance on this trend.

Ice or not?
In theory, ice really doesn't go in wine. There are basically three reasons: ice lowers the temperature of the wine, drastically alters its flavour, and increases "hardness" like acidity in the taste. Furthermore, modifies components such as CO2 in sparkling wines and, once dissolved, irredeemably dilutes the wine. And it is with dilution that the aromatic characteristics and the intensity of the wine are lost.

However, in recent years, fashion and a less traditional approach to drinking have loosened the strict textbook rules, allowing the addition of a few ice cubes, especially in sparkling white and rosé wines. Just think about when it gets hot: wine lovers are increasingly opting to dilute wine with ice, to increase freshness and drinkability. They are also adding fruit or other ingredients to create a real summer cocktail.
So how do you go about lowering the temperature of the wine?

Serve at the right temperature: a question of hours
As we know, the correct serving temperature is essential for better appreciation of the characteristics of each wine. The fridge is your ally in lowering the temperature of wine. With red wine, for example, just chill for about an hour before serving it; whites need several hours.
And if you are in a hurry why did you organize a last-minute dinner? Don't panic, you can always use the freezer (30 or 40 minutes may be enough) or the classic ice bucket, to which you add a pinch of salt to lower the melting point of the cubes.
Another alternative could be a glacette, a thermal container that isolates the bottle, slowing down its heating.

The "wine cocktail": a non-passing fashion trend
You will certainly have tried one yourself, perhaps on a summer evening or during that aperitif on the terrace a few years ago. We're talking about wine-based cocktails, such as Sangria or a ready-to-drink like our Bellini and Mimosa. The use of wine in mixology cannot be considered a passing trend, since there are many examples of successful drinks in which wine (mostly sparkling or white) is the main ingredient. Aromatic wines are particularly popular: a Moscato with ice and mint, for example, is excellent for the summer, as is the inevitable Prosecco (or Prosecco Rosé) in the different Spritz variants. And again, a Riesling to which lemonade and fresh fruit such as strawberries, apples or oranges are added, is a real treat for an unconventional aperitif.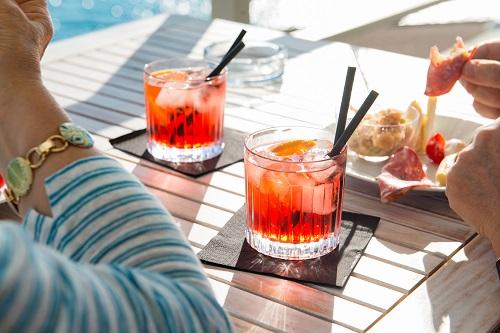 Regardless of theory, the important thing is to choose a drink that suits our tastes and that is served in the way we prefer. The consumption of wine must be a pampering and a pleasure for the palate. If you like it, and it is possible, why not add some ice cubes then?