The heat and high temperatures have arrived, but this does not mean that we have to give up on enjoying a good glass of wine. Summer brings with it many opportunities for conviviality, such as aperitifs, trips and outdoor dinners - all occasions that require the right wine to accompany them.
Summer White Wines: what characteristics must they have?
Our eating and consumption habits change in summer; we prefer, for example, cold dishes such as as raw or cooked fish, to be accompanied by a fresh, thirst-quenching drink. In addition, we drink more between meals, so if we want to avoid excessive consumption of cocktails and sugars, white wine is a perfect choice. But what characteristics must white wine for our summer evenings have?
Fruity, light, or structured, our personal tastes will always determine which wines we consider to be the best. However, we can identify a number of characteristics that make winners out of certain wines. Whites, rosés, and sparkling wines are undoubtedly the most popular summer wines, thanks to their low serving temperatures and the gastronomic pairings they lend themselves to. Summer wines are fresh, light, and easy to drink. Generally not too full-bodied, their acidity, aromas, and flavour offer relief on the hottest days. So, which are the best wines for summer, and how do we choose the right wine for the occasion and gastronomic pairing?
Falanghina
Sun, sea, fish... Falanghina Campania IGT is a dry, young and fresh white wine produced in Campania; it has all the essential characteristics of summer wine. With a straw yellow colour and an unmistakable floral and fruity aroma, this wine pairs perfectly with all the typical seafood dishes of summer, including grilled fish, crustaceans, and raw seafood, as well as vegetables and ham. Not surprisingly, it is among the best-selling white wines. Try it paired with a typical buffalo mozzarella from Campania, it will surprise you!
Chardonnay
Through its name and its flavour, the Chardonnay Salento IGT Pizzicanto will immediately transport you to Salento, a stunning holiday destination which evokes the pizzica tarantina folk dances and the beautiful Apulian sea. Chardonnay is an internationally appreciated vine which, thanks to its adaptability, is grown in all Italian regions. Let yourself be enveloped by this summer white wine which pairs perfectly with appetizers and Mediterranean cuisine.
Vermentino
While it is defined as the wine of the Tyrrhenian Sea, and is cultivated in Sardinia and Liguria, Vermentino finds its best expression in Tuscany, thanks to the minerality of the soils and the favourable microclimate there. The Vermentino Toscana IGT Selvato is a dry white; it is not particularly alcoholic and is therefore perfect for hot days as it does not weigh one down too much. Its savoury flavour recalls the sea with a fresh and full-bodied taste. This elegant wine can be enjoyed on its or own or with your elegant meals. Ideal for the whole meal, Vermentino is best with a shrimp cocktail or salmon, but also with white meat or with more elaborate dishes such as paccheri with lobster!
Bianco Terre Siciliane
Southern Italy is always attractive, thanks to its vast range of excellent food and wine and its summer tourism with dream beaches and great hospitality. A main southern Italy summer attraction must be Sicily's delightful Bianco Terre Siciliane IGT. Produced exclusively from selected and native Sicilian grapes, this dry white wine with citrus notes recalls tropical fruits and Mediterranean scrub. Enjoy it with soft cheeses, fish dishes and vegetable appetizers, on the terrace or inaugurating the first picnics of the season!
Lugana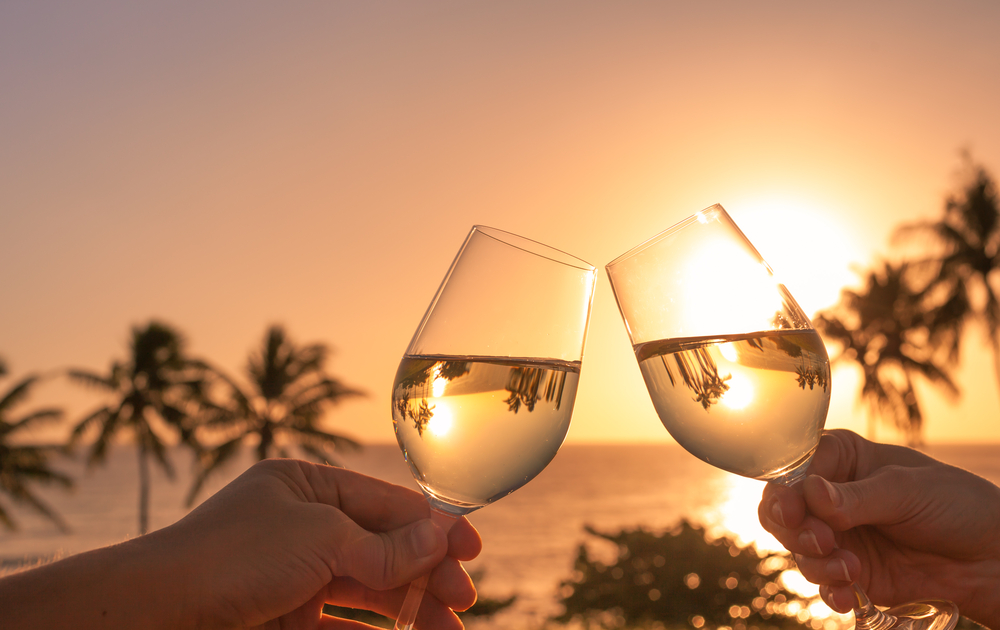 Do you love good wine and sunsets over a lake? Then the Lugana DOC "Collection" is for you! Produced south of Lake Garda, Lugana is an extremely versatile wine, with a harmonious, fragrant taste, good acidity and great drinkability. This wine can be enjoyed throughout the meal, from the aperitif to the second course, but it best expresses itself when combined with lake fish. That said, it also pairs well with white meat main courses. And, last but not least, it offers a pleasant surprise when paired with desserts!
Enjoy the summer, serve your summer wines between 10 ° and 12 ° C and let yourself be refreshed by the Giordano Wines selection!