CA' MERLETTO Bianco Veneto IGT
Dry white wine
2022
Ca' Merletto Bianco ("White Lace") IGT Veneto embodies the pleasure of a fresh and inviting wine, with all the grace of its marvellous region. Vinified with meticulous care, it brings to any tasting a wide and always stimulating set of aromas; just like the laces of Venice, made with the expertise of a skilled artisan, this wine demonstrates the elegant touch of our Wine Makers, as they gracefully write an important page in the great book of Italian wine.


Serving Temperature
10°-12 °C

Characteristics
To the eye it shows a pale straw yellow colour with greenish highlights, bearing witness to its freshness and youth. It has accentuated floral notes, which characterise a bouquet of great expressive amplitude: hints of white fruit, apple and pear stand out. Easy to drink, it yields a fresh and intense taste. Harmonious, with a perfect balance of subtle nuances of taste, Ca' Merletto Bianco IGT Veneto is a wine of absolute finesse, supremely elegant and always enjoyable to drink.
Marketed by: Giordano Vini S.p.A. via Cane Guido 47bis-50 12055 Diano d'Alba (CN) - Italy.

Vinification
Making a good wine means being expert in every step of the production, from the selection of fruits to the cellar work. The extraction of aromas from the berries must be rapid: the less time it takes between harvesting and the first operations on the grapes, the greater the character that the fruit will be able to pass to the future wine. Like the rapid delicacy with which Venetian lace is woven, making the Ca' Merletto Bianco IGT Veneto requires care and competence. And above all else, a great, sincere passion.

Food Matches
Served chilled, it is the perfect accompaniment to plentiful salads, light starters and fish dishes. Molluscs and crustaceans create interesting alchemies with Ca' Merletto Bianco IGT Veneto: combinations worth trying, to note how its characteristics are enhanced. Venetian Brodetto is a delicious partner.

Tasting
A good way to taste the Ca' Merletto Bianco IGT Veneto is to compare it with another, more mature wine. A Sauvignon "Il Vinré", for example, an elegant and more structured white. Placing the glasses side by side, the difference will leap out at first glance: the colour of the Sauvignon is more full and intense, that of the Ca' Merletto more ethereal and light. The full, impetuous olfactory profile of the Vinré will make one appreciate the delicacy of Ca' Merletto's fragrant notes. Finally, the taste: even though they are both well-balanced wines, the Vinré has a fruity taste, changing over time thanks to its great longevity. The Ca' Merletto Bianco IGT Veneto is pure grace – light, easy to drink, immediately appreciable and fresh. The comparison emphasises the characteristics of each wine, and makes tasting an enriching pleasure.
Bottled by Giordano Vini S.p.A. - Diano d'Alba - Italy in the cellars of Valle Talloria
Produced in Italy
White Collection
White Collection
15 bottles of white wines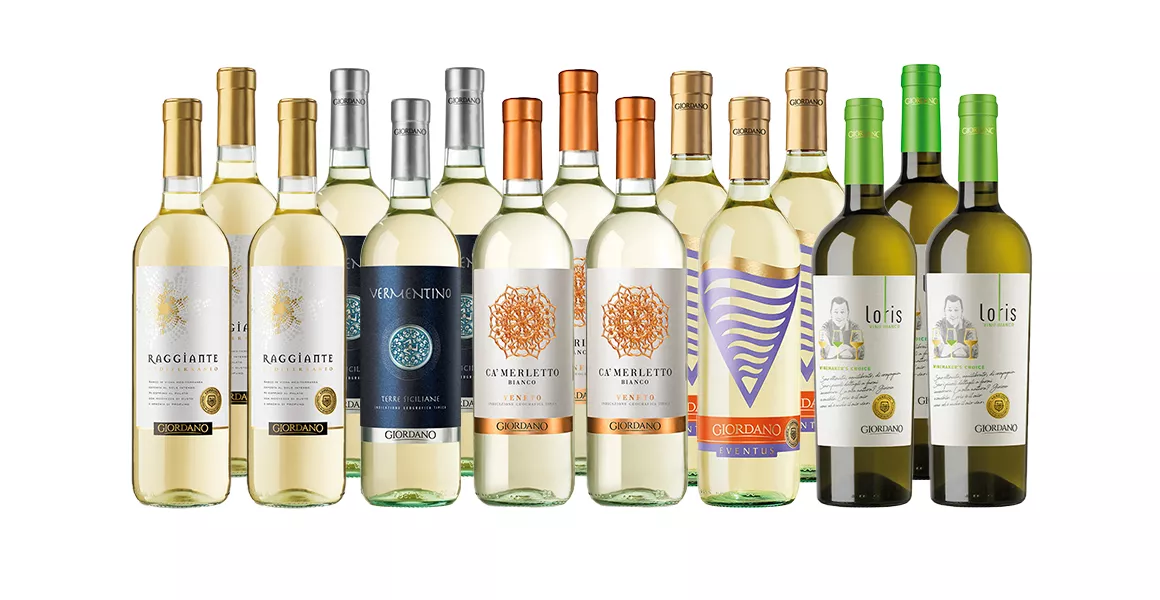 Dispensa delle feste
Dispensa delle feste
12 bottles