Sommelier in White
12 Bottles
Entrust the experts for your most elegant toasts: fruity and floral aromas, delicate hints of spices, a light and pleasant body and enjoyable sensations of freshness, all the best of the Giordano white wines in a selection dedicated to enthusiasts. With the vacuum wine saver set included, no drop of your favorite bottles will be wasted!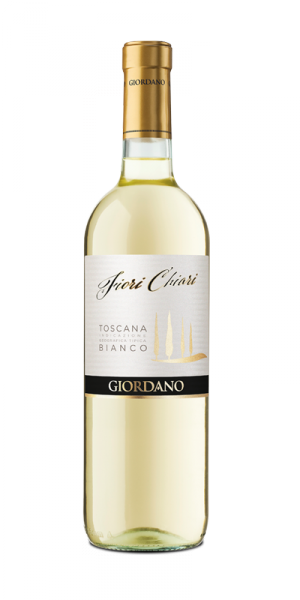 "Fiori Chiari" Toscana IGT Bianco
Dry white wine
Directly from Tuscany a young, fresh, pleasant white wine.


Serving Temperature
8°-10 °C
Characteristics
It has a pale straw yellow colour and a fruity bouquet with floral notes. The taste is balanced, soft and harmonious with a pleasantly bitter finish reminiscent of almonds.
Dry white wine
Chardonnay Salento IGT Prestigio - Gold Label
Dry white wine
2016
The wine is made in our winery at Torricella in the province of Taranto, using perfectly ripe grapes.The result is a pleasant, quaffable wine with all of the elegance and "finesse" that one would expect from such a noble wine.


Serving Temperature
10°-12 °C
Characteristics
A full straw yellow with beautifully bold and consistent golden hues. The bouquet is accompanied by tropical fruits with delicate hints of pineapple, passion fruit and banana, but with an enchanting base of citrus. It is full on the palate, soft and enveloping but with a crisp acidity that gives it a perfect balance. The aftertaste is excellent and echoes the nose. It is an important wine but at the same time pleasant and extremely quaffable.
Dry white wine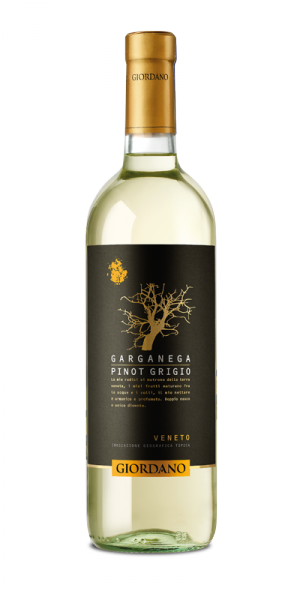 Garganega Pinot Grigio Veneto IGT 2016
Dry white wine
2016
Delicately floral dry white made from the careful vinification of two prestigious grapes from the Veneto - Pinot Grigio and Garganega.


Serving Temperature
10°-12 °C
Characteristics
Straw light-yellow in colour with golden overtones. Floral on the nose with a hint of peaches and apricots.
Dry white wine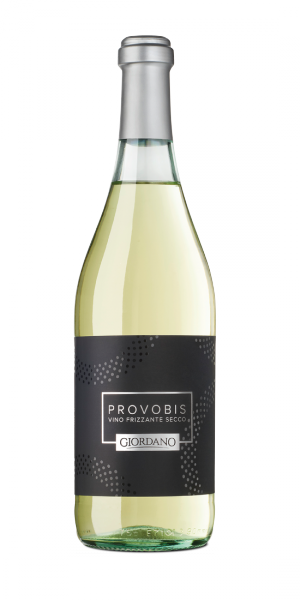 Provobis
Sparkling white wine
A delicately sparkling wine with hints of lime flowers.


Serving Temperature
6°-8 °C
Characteristics
Light yellow in colour with greenish shades, Provobis has a fine and persistent mousse. Floral with hints of lime flowers, its delicate and intense aroma is offset by a fresh, balanced and aromatic taste.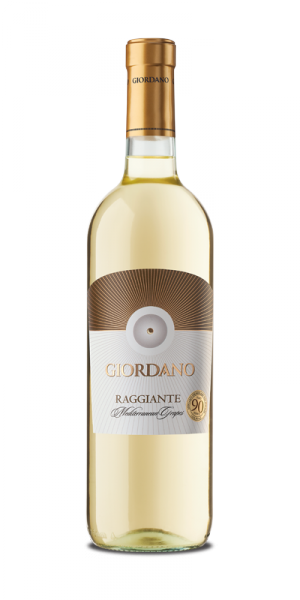 Raggiante Bianco
Dry white wine
Elegant white with a good body, created from a mix of different "cuvees" assembled in the Giordano Wineries. The name comes from the sun's rays that are particularly intense in the Mediterranean areas in which its grapes are grown.


Serving Temperature
12°-14 °C
Characteristics
Golden colour with bright, lively reflections; an outstanding bouquet, with a fresh floral fragrance that is intense and fruity, with hints of apple, and a body with great density and an appealingly harmonious softness.
Dry white wine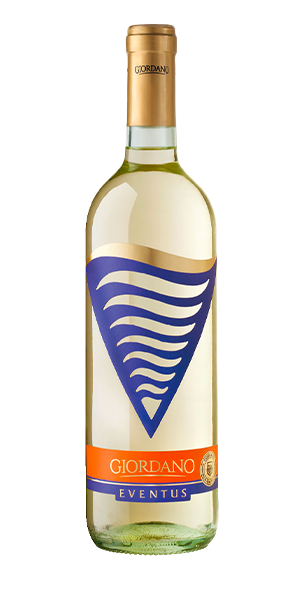 Eventus Bianco
Dry White Wine
A modern wine studied at length by the master winemakers at Giordano to satisfy the most discerning tasters. It is obtained with the best white grapes, grown in the most suitable areas. The vinification involves immediate separation of the skins from the must, followed by fermentation at very low controlled temperature, to preserve its freshness and aroma. The name, Eventus emphasises the unique and rare characteristics of this wine.


Serving Temperature
8°-10 °C
Characteristics
Golden, straw yellow with greenish hints, and an elegant, floral bouquet with notes of exotic fruits and green apple. A stupendously pure bouquet. This is one of the most fragrant, fruity wines made at Giordano. A soft, balanced flavour with hints of yellow apple, pear and grapefruit.